26 Aug 20
So is now a good time to sell property?
With property prices actually not only holding up but improving in our area, the short answer is a resounding yes.  
Prior to Stage 4 Lockdown - We have averaged 9 buyers per property per open home.  The long term average is 2-3.  The best indicator of market direction is open home numbers.
As a matter of fact, in reality, we are screaming out for more homes to sell.  When buyers contact us via email and phone asking if we have new properties coming up that are not online, you know the demand is there.
We have managed to sell a number of homes even with Stage 4 Lockdown. Some even selling off-market, so this is an option for you if you want to test out the market with no cost to you. See our sold listings here.
But is it really the right time to sell a property?
People always ask me 'When is the best time to sell a property?' 
They are thinking seasonal (ie spring, autumn), but this is not the right way to think. 
You need to sell when there is the least number of competing properties to yours for sale.  Supply and demand.  Right now, we are experiencing high demand and low supply, so what do you think is happening with prices?  You guessed it, they are very good! See all of our listings here.
Don't wait and wait until everyone else starts selling (causing oversupply).
Sell now and be ready to buy when all the other people put their houses for sale in Spring!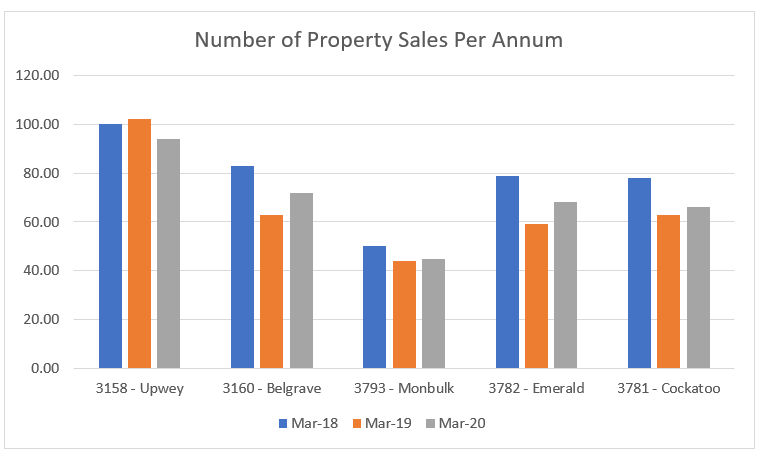 Graph Data Source; RP DATA
Take into consideration the above graph is prior/start of COVID-19, then compare the above to the current COVID-19 times and the numbers tell the tale!
For the months April to June 2020 Upwey & Belgrave had a total of 9 Sales each, Monbulk had 16 Sales, Emerald saw 23 Sold and finally Cockatoo coming it at 11 Sales.
Interested in knowing more about what selling in Lockdown looks like or want to set up a property plan for you and your future? Contact your

preferred agent

today or contact the office to speak with the team 9754 6111.